It was back in 1909 when a nervous Miss Rosetta Garside arrived at Brighouse Parish Church with her father William Henry Garside on the day she was to marry local boy Albert Spencer. How was it that a young couple both from solid working class families in Brighouse could afford what was an unprecedented arrival and departure on their wedding day.
The Albert Theatre that week was playing host to Mr Frederick Melville's Theatrical Company in a play entitled 'Forbidden Marriage'.
The Albert Theatre c:1915
A popular postcard image of a theatre poster for the play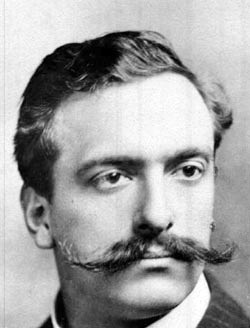 Frederick Melville (1877 - 1938) married an actress named Jane Eyre. They had two daughters- June (born 1915) who married the actor John Le Mesurier (of "Dad's Army" fame) and Sheila.
As an actor Frederick had used the name Louis Mervin before moving solely into theatre management with his brother Walter.
The Melville brothers began to expand. They leased (and sometimes bought) several London theatres: The Metropole, The Terris Theatre, Rotherhithe and in 1907 the Brixton Theatre.
Frederick ran the Brixton Theatre for 30 years. After his death in 1938 it was renamed "The Melville Theatre" in his honour, but it was destroyed by a bomb two years later,
In 1909 both Walter and Frederick took over the Lyceum Theatre They acquired the freehold for £240,000.. In 1911 they built the Princes Theatre - we know this nowadays as The Shaftesbury Theatre, London.
The brothers concentrated on popular melodramas - many of which they wrote and toured themselves, and for their 30 year reign as pantomime kings at the Lyceum theatre.
They eventually sold the Swansea Star Theatre, and, in the age of early cinema, it became, like many others a silent cinema house. (Later adapted it became the Rialto Cinema, demolished in 1968).
Their working relationship took a turn for the worse in 1921. At their separate offices at the Lyceum they were no longer speaking to each other. Lawyers were engaged, and eventually their quarrel came to a head.
For the theatre company's visit to Brighouse to create some interest, drum up support and hopefully sell more tickets the theatre manager Mr York devised what really was no more than a gimmick but one that Albert and Rosetta would never forget.
Mr Melville let it be known that he would give a gold wedding ring to the first couple that bought tickets and were to be married during the same week. On Wednesday following the announcement Albert and Rosetta decided they would try and take him up on the offer.
The gimmick was then picked up by a number of local traders, one local shop a set of six silver spoons, the theatre orchestra and staff held a collection and bought a silver cruet set and finally Mr Martin Manley the well respected local photographer offered to take the wedding photographs.
On the couple's wedding day the thoughts of seeing young Rosetta arrive in a motor car caused quite a stir round the town. The crowds had gathered in Church Lane and outside the church well before 2pm when Rosetta and her father arrived.
Once the ceremony was over and the happy couple led the guests outside, the sight that greeted them would have been staggering. Not only were the crowds still there but they had multiplied several times to unprecedented numbers.
Never before had the folks of Brighouse seen anything like it before, with crowds cheering as Albert led his young bride to the awaiting car. This was a day they would cherish forever.
Whether Albert and Rosetta remained in Brighouse throughout their married lives I cannot say but if they did perhaps their great-grand children are still around in the area.